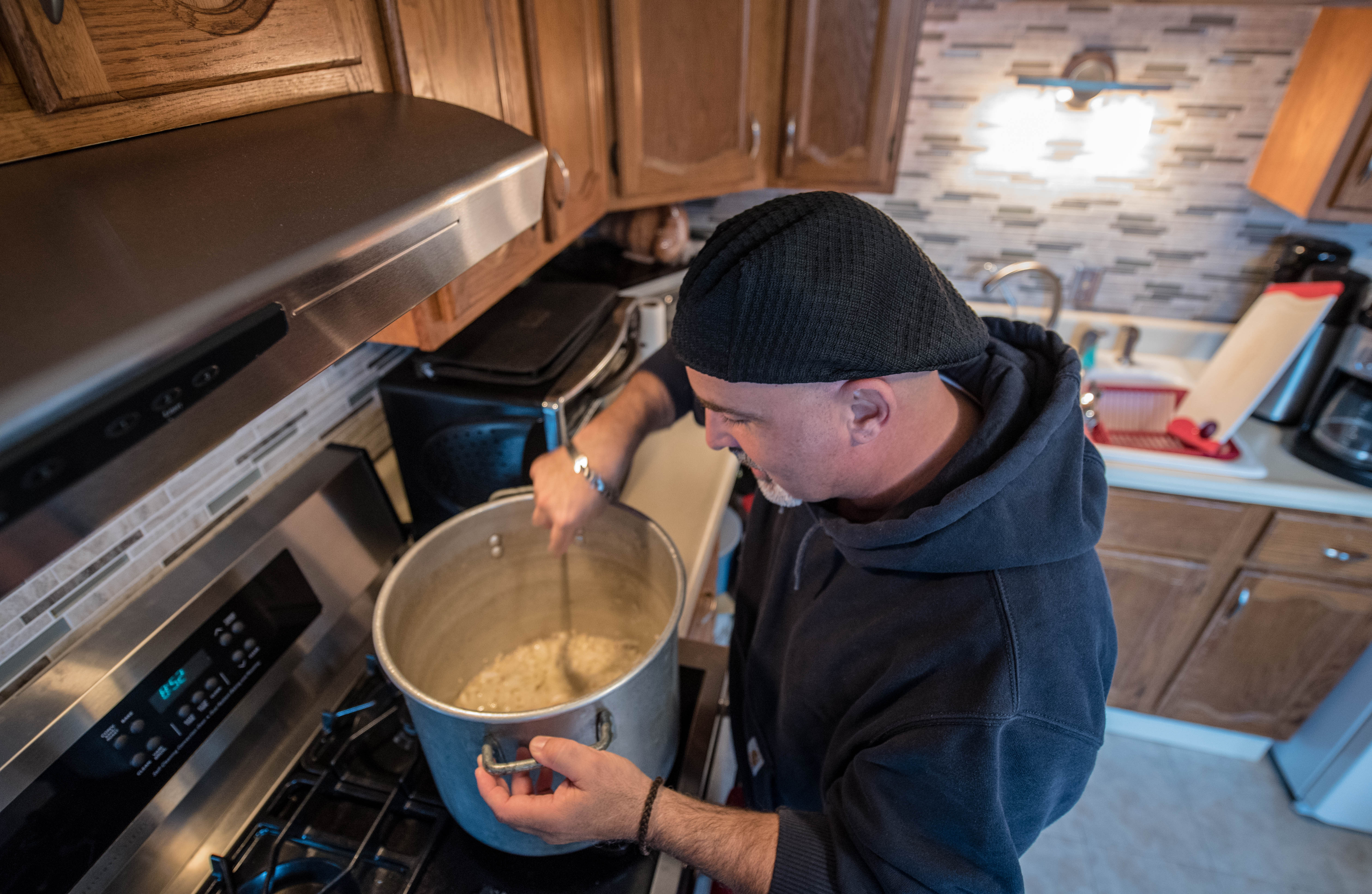 On a brisk cold day in March 2011, John Tumino, a chef, saw a panhandler holding a cardboard sign near an off ramp in the Northside of Syracuse, N.Y., on his way home from work. While sitting in idle, Tumino said he realized that nobody was looking at the homeless man; as if he was invisible.
Tumino, 56, also a minister, believed his God-given purpose was to help people in need. So instead of going home, he went to the grocery store and bought a sandwich, a drink and a pack of cookies and returned to the off ramp to offer the meal.
"You're not invisible," Tumino, said to the man. "God sees you and I see you."
That was the day Tumino realized how he would fulfill his purpose.
He began making lunches in his personal kitchen and used his car to deliver food to people on Mondays and Wednesdays. Tumino and his wife, Leigh Ann, would drive near intersections of on and off ramps, under bridges or until they found homeless people who were willing to accept the food.
They would ask the people about their stories and would offer their hands in prayer. Tumino said he felt a change within himself when he heard these stories and saw the way people were living on the streets.
"My eyes saw things, my ears heard things and my nose smelled things I've never experienced before, so how do I walk away from that," Tumino said in reference to meeting a homeless woman who was murdered a week after he met her.
Five months later, the couple turned their efforts into In My Father's Kitchen, a nonprofit organization that aims to help people get off the streets in addition to providing food and emotional support.
Tumino would take homeless people to supportive housing providers and rehabilitation services to help them develop a plan to get back on their feet, which wasn't always easy.
"The hardest thing about what I do is getting people to accept the hand up," Tumino said. "There's been handfuls of people who need help, but won't accept the help and the next thing you know they have overdosed."
But Leigh Ann and Tumino never gave up on their mission to help homeless people. They maintained a consistent presence on the streets and created ways to involve the community by opening the doors of In My Father's Kitchen on Fridays to accept clothing, housewares, and monetary donations.
Tumino made a pasta sauce branded with the organization's name and logo – sold in local grocery stores – which allowed shoppers to financially support In My Father's Kitchen while using the sauce to fill their own plates with a homecooked meal.
Leigh Ann and Tumino held public discussion panels alongside other support services such as the Rescue Mission and the Housing and Homeless Coalition of Central New York, to educate people in the community about homelessness and how they can help.
The organization received support from 67 donors and raised awareness with more than 7,000 followers on Facebook.
The progress of the organization sparked the need to hire Kat Scholfield, a full-time street outreach service worker, who began working at In My Father's Kitchen a year ago.
The majority of the homeless people Scholfield meets has some kind of mental illness, which can make the process of getting off the street seem daunting, Scholfield said. Having that knowledge helps In My Father's Kitchen to work differently than most agencies.
"We take them by the hand and sit with them through all the appointments and get them from point A to point B, get them breakfast, coffee or whatever it takes to get them comfortable."
With the addition of Scholfield's help and her abilities to connect with people, the organization has sponsored community-wide events such as 5k walk/runs, quarterly giveaways and holiday food drives.
In My Father's Kitchen has helped 103 people get off the streets since its foundation.
"It's been seven years, and we've made thousands of lunches and met hundreds of people and it's just by bringing value and dignity to people in the middle of their suffering and showering them with unconditional love," Tumino said.