Corey Rich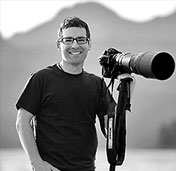 Corey Rich is one of the most recognized adventure and outdoor lifestyle visual storytellers. He has captured stunning still photos and video on a wide array of assignments, including rock climbing in India, surfing in South Africa, freight-train hopping in the American West, ultra-marathon racing in the Sahara Desert of Morocco, and snowboarding in Papua New Guinea. He has traveled the world on assignment for many of the best clients in the industry. His editorial work includes assignments for National Geographic Adventure, Outside, Sports Illustrated and The New York Times Magazine.
Corporate/commercial clients include Anheuser-Busch, Apple, Nike and The North Face. His first book, My Favorite Place: Great Athletes In The Great Outdoors, was published by Chronicle Books. Today, much of his time goes into capturing both still images and video for the creation of multimedia projects for commercial and editorial clients.
Rich was the driving force behind founding Aurora's Outdoor Collection, which has quickly become the world's leading brand of outdoor adventure and outdoor lifestyle photography. Rich's natural business savvy and intuitive knowledge of sales and marketing have allowed him to lead the growth of Aurora's stock photography sales over the past five years. Rich is focused on overseeing Aurora's continued growth in sales and business development. He has also played a major roll in the creation of two new divisions of the company: Aurora Select (assignments) and Aurora Novus (multimedia).
Additionally, Rich is a Nikon evangelist and member of the SanDisk Extreme Team. He is also on the Board of Directors for The Access Fund, member of the Visual Journalism Advisory Board at Brooks Institute, co-founder and lead instructor of the National Geographic Adventure Photography Workshop, member of the Rowell Legacy Committee and on The Rowell Award for the Art of Adventure judging panel.