Steve Rubel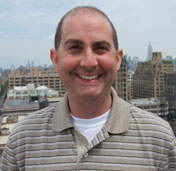 Steve Rubel is Chief Content Strategist for Edelman, the world's largest public relations firm. He is widely considered one of the leading experts on content consumption and the blurring lines between traditional and digital channels.
Rubel is responsible for advancing Edelman's thinking on the entire media ecosystem, creating and cultivating best practices in content strategy and for helping clients develop innovative new programs that blend paid, owned and earned tactics and partnerships with media owners.
Since joining Edelman in 2006, Rubel has served as strategic advisor to the firm's executives and client roster in a number of different capacities. He first played a key role in helping to identify innovative new ways to engage the public through social media. More recently, he advanced the firm's point of view on the evolving media landscape and new opportunities to reach stakeholders through sponsored content / native advertising (http://edl.mn/scpaper).
Rubel is one of Edelman's most visible industry thought leaders. He has written a monthly column for Advertising Age for eight years and is followed by more than 85,000 on Twitter (@steverubel). He was recently named by PR Week as one of 20 innovators who are having the greatest impact on communications and by Folio: magazine as "a go-to expert on the evolving media landscape." He represents Edelman on the World Economic Forum's Media, Entertainment and Information Industry Partnership.
Prior to joining Edelman, Rubel worked for 15 years in a variety of marketing communications positions in corporate, non-profit and small/mid-sized PR firms. He joined Edelman from CooperKatz where he conceived and developed some of the earliest social media programs in the PR industry.
Rubel is a graduate of Hofstra University and hails from Long Island, NY.